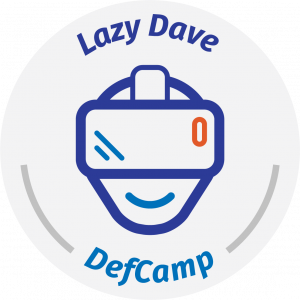 EA - Lazy Dave
Dave, a game developer who felt especially lazy one day, left a backdoor on the main title server so he can do some remote work.
Can you help us out with locating it? Furthermore, we've heard that he keeps some game keys for EA titles… And you know what they say, right? Finders, keepers!
Be sure to pre-register for EA – Lazy Dave to reserve your spot and make the most of it! Just use the Registration button to your right and fill in the details.
/ Do not attack the infrastructure. If you find a problem, please report to us.
/ Don't ask for hints in private. We will only give hints that are available to all the teams.
/ For the final flag you are required to create a write-up.
/ Teams can have only one member.
/ You must be on-site to redeem your prize.
/ Final flag – 1xEA game for the first ten entries
/ Intermediary flag – EA SWAG
DefCamp Capture The Flag ( D-CTF) is the most shattering and rebellious security CTF competition in the ..
They help us make this conference possible.
Orange "brings you closer to what matters to you".
This is our brand promise: to bring our clients closer to what's essential to them and to keep them always connected and in touch with the latest technologies, by offering them the best and safest communication experience.
Ixia provides testing, visibility, security solutions, network testing tools and virtual network security solutions to strengthen applications across physical and virtual networks.
Secureworks provides threat intelligence-driven security solutions for organizations to prevent, detect, rapidly respond and predict cyberattacks.
COMMUNITY & MEDIA PARTNERS