International Hacking & Information Security Conference
DefCamp is the most important annual conference on Hacking & Information Security in Central Eastern Europe.
Every year brings together the world's leading cyber security doers to share latest researches and knowledge.
Over 2,000 decision makers, security specialists, entrepreneurs, developers, academic, private and public sectors will meet under the same roof in Bucharest, Romania every fall, in November.
Worldwide recognized speakers will showcase the naked truth about sensitive topics like infrastructure (in)security, GDPR, cyber warfare, ransomware, malware, social engineering, offensive & defensive security measurements etc. Yet, the most active part of the conference is Hacking Village , the special designed playground for all hacking activities happening at DefCamp.
Join us for DefCamp!
Here's what's in it for you
01
Be part of the Community
Meet over 2,000 security specialists, decision makers, public & educational sector representatives, developers and students in Bucharest every year at DefCamp.
Be ready to hear the latest cyber security news directly from worldwide specialists. It's time to get security aware!
02
Learn from top-notch Speakers
DefCamp offers two full days of cyber security news & showcases from worldwide leaders.
Want to meet over 60 fascinating speakers who bring their latest research on stage and get first-hand experience on how to prevent a potential cyber crisis? If the answer is yes, make sure you save the date!
03
Meet & Greet your peers
DefCamp strongly believes and encourages community building.Information, friends, and connections are some of the most important assets you can have.
Sharing information is a key part of the community building! Learn more about cybersecurity and exchange views with worldwide experts in the Main Networking Lounge. Ready to engage with experienced and renowned experts?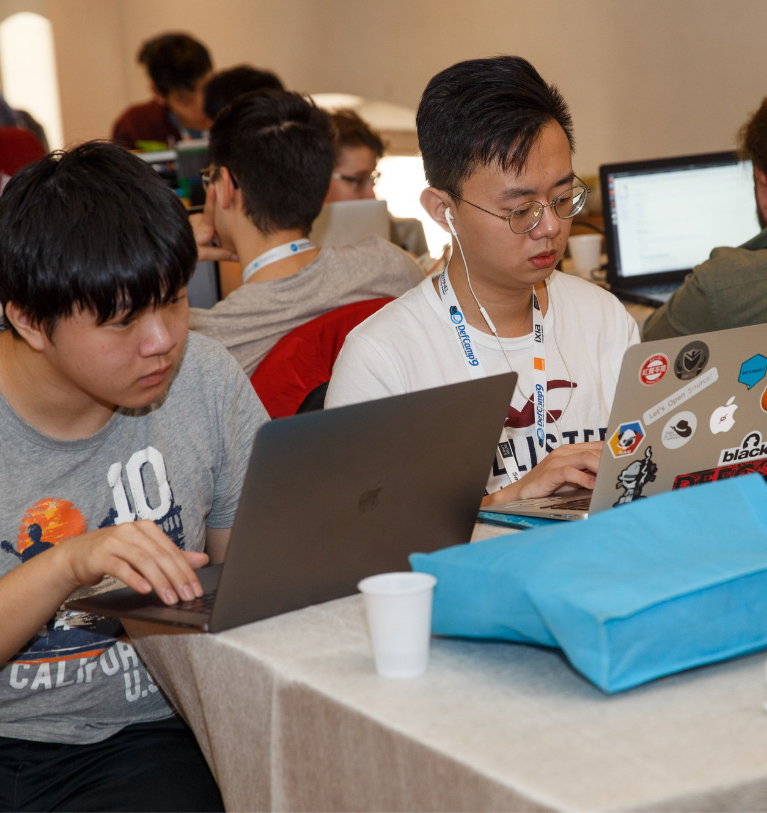 04
Hack away in Hacking Village
Over 10 competitions will create the perfect environment for all attendees that are looking to put their skills to the test and win some money.
Competitions will improve your red team & blue team skills for Critical Infrastructures, IoT devices proposed in the IoT Village, automotive with Car Village, health & industry specifics.
Hacking Village activities will have prizes worth more than 20,000 euros in cash, swag and gadgets. 
Gain experience and get knowledge from industry leaders.
60+
speakers who gained their experience worldwide, while discovering threats, increasing awareness or creating unique products & setting global trends.
Expert Researcher JSC Advanced Monitoring
BIOGRAPHY Sergey Ovchinnikov has more six years of experience in information security. He has researches in ..
Research Fellow Norwegian University of Science and Technology
SPEAKER INTERVIEW AVAILABLE
BIOGRAPHY Mudassar is currently working as a research fellow at the department of Information and ..
Director for Security Advisory Services Wolters Kluwer
BIOGRAPHY Currently working as Director for Security Advisory Services Europe at Wolters Kluwer, Sebastian has..
InfoSec Curmudgeon Security Weekly
BIOGRAPHY Jeff Man is a respected Information Security expert, advisor, evangelist, and co-host on ..
Application Security Engineer Axway
BIOGRAPHY Application Security Enginner at Axway and security researcher during spare-time, with more than 6 ..
See what happened last year
They help us make this conference possible.
Orange "brings you closer to what matters to you".
This is our brand promise: to bring our clients closer to what's essential to them and to keep them always connected and in touch with the latest technologies, by offering them the best and safest communication experience.
Ixia provides testing, visibility, security solutions, network testing tools and virtual network security solutions to strengthen applications across physical and virtual networks.
Secureworks provides threat intelligence-driven security solutions for organizations to prevent, detect, rapidly respond and predict cyberattacks.
COMMUNITY & MEDIA PARTNERS
Invest in your self-development, own your professional growth, and join us and hundreds of IT and security professionals at DefCamp this fall!
Level up with exclusive interviews & resources
13/07/2020

BY andra.zaharia

When you look at your company's security, do you pay as much attention to what's happening inside of it as..
28/04/2020

BY andra.zaharia

"Where do I even start? I think I want to pursue a career in information security but there are SO many ..
14/04/2020

BY florina

It's no secret there's a major cybersecurity skills shortage affecting organizations all over the world, ..