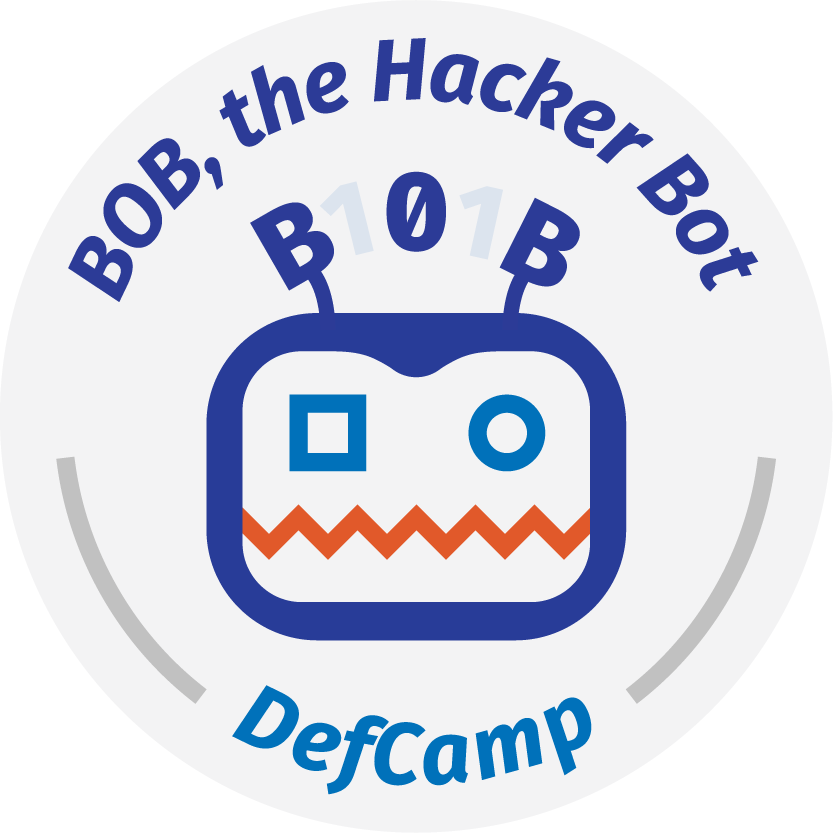 Bob, the Hacker Bot
Bob is a simple Robot that knows how to navigate on different website. He is also able to test websites against known vulnerabilities, such as Brute Force attacks. However, he is still noob in this field and he would need your help in order to get better at this.
Your goal is to make a better Bob (trained on Damn Vulnerable Web Application(DVWA)) that, during DefCamp will be tested on another website (similar to DVWA) to see how much he learned.
Capture the Flag (CTF) is a computer security competition. CTF contests are usually designed to serve as an educational exercise to give participants experience in securing a machine, as well as conducting and reacting to the sort of attacks found in the real world.

Reverse-engineering, network sniffing, protocol analysis, system administration, programming, and cryptanalysis are all skills which have been required by prior CTF contests.

There are two main styles of capture the flag competitions: attack/defense and jeopardy. In an attack/defense style competition, each team is given a machine (or small network) to defend on an isolated network. Teams are scored on both their success in defending their assigned machine and on their success in attacking other team's machines.

Depending on the nature of the particular CTF game, teams may either be attempting to take an opponent's flag from their machine or teams may be attempting to plant their own flag on their opponent's machine. One of the more prominent attack/defense CTFs is held every year at the hacker conference such as DefCamp where this activity is expected every year.
Develop a better "Bob" that can perform a security audit on a website he never seen before. The target will be similar with Damn Vulnerable Web Application(DVWA).
See Contest Details for more information.
/ Best individuals will be rewarded based on their score, if two individuals have the same score, the order of submission will be considered.
/ The solution can be sent before DefCamp
/ An individual can submit more versions of their "Bob"
/ Cheating, of any kind, is not allowed
/ White listing vulnerabilities based on the site you visit won't be considered as "testing", a vulnerability is considered discovered by your Bob if he perform a certain test to verify if a particular page or input react in an unexpected/malicious way
/ Please read here full rules of the competition.
Points/vulnerability
Each vulnerability discovered by your Bob will be credited with a number of points, according to the following list:
Brute Force: 50 points
Command Injection: 100 points
XSS (Stored): 150 points
XSS (Reflected): 100 points
XSS (Dom): 50 points
SQL Injection (Blind): 150 points
SQL Injection: 100 points
Captcha Breaker: 200 points
File Inclusion: 100 points
CSRF: 100 points
Object Injection: 300 points
Server Side Request Forgery: 200 points
Unvalidated Redirects and Forwards: 50 points
Bonuses
The total score will be also the subject for some bonuses, according to the following plan:
If no scanner (such as Burp)/ or any external APIs is used: +50% points
If the scanner tests the website visually from the UI, and not from some hidden services: +20%
/ Drone Hubsan X4 H501M Camera HD, FPV, GPS, Waypoin
/ SG-1000 microFirewall Security Appliance
/ ChameleonMini RevG color
DefCamp Capture The Flag ( D-CTF) is the most shattering and rebellious security CTF competition in the ..
They help us make this conference possible.
Orange "brings you closer to what matters to you".
This is our brand promise: to bring our clients closer to what's essential to them and to keep them always connected and in touch with the latest technologies, by offering them the best and safest communication experience.
Ixia provides testing, visibility, security solutions, network testing tools and virtual network security solutions to strengthen applications across physical and virtual networks.
Secureworks provides threat intelligence-driven security solutions for organizations to prevent, detect, rapidly respond and predict cyberattacks.
COMMUNITY & MEDIA PARTNERS