Since you're working in cybersecurity, you're most probably doing everything in your power to keep your company and/or your customers' businesses as safe as possible. A cybersecurity specialist will strive to reduce the attack surface, conduct regular pentests, embrace the zero-trust approach, do constant research, keep up with the latest trends in cybercrime – the "to do" list can go on and on… 
But why all this hassle? 
What's the point in putting in so much effort? One might think the answer varies from one industry to another, but we beg to differ: in all cases it all comes down to trust, confidence and reliability. 
Take it from Tiberiu Anghel, Senior Manager – Global Security & Fraud, Booking Holdings Romania. When we asked him what cybersecurity means for the world's leading provider of online travel and related services, he confirmed this theory and was kind enough to share further insights from his team's activity:
Working with travel brands, cybersecurity means first and foremost ensuring customer trust and confidence in our services, so in a way it transcends cybersecurity. We talk about a mix of cyber threats, fraud and compliance that intertwine. On top of the normal threat landscape that every organization faces, the complexity of the travel technology universe means that Booking Holdings is also dealing with a host of other challenges from fake properties to fake accounts and a whole universe of different fraud attempts. 
That "to do" list really goes on and on…
After all, cybersecurity is a multifaceted field, and the challenges will be nothing less than troublesome. Follow Tiberiu's story, and you'll have proof of "the A LOT" that cybersecurity teams need to do and consider: 
In terms of operational effort, it's consistently above average, even compared to other technology or travel companies, as Booking.com is one of the largest travel platforms in the world. However, the continuous nature of these cybersecurity challenges encourage a high level of collaboration with the business to ensure we can deliver on our company mission, which is to make it easier for everyone to experience the world. Easier said than done. 

The strategy and commitment towards securing and protecting our customers' and partners' data is remarkable. When I joined I was surprised by the high level of care security teams have for users, partners and customers and I think that's just fantastic.

It's hard to pinpoint one specific challenge, but keeping up with the general threat landscape, making sure prevention is always up to date and reducing tech debt, while dealing with travel specific fraud, doing all of it at the same time at the highest level, is the biggest challenge. 
Cybersecurity could see faster progress through emerging tech  
In the infosec community – and beyond, there are usually more debates on how cybersecurity is changing technology today and less talk on how technology can change cybersecurity for the better. The general concern is rather focused on how new tech introduces new avenues for cyber crime and attackers. 
But the perspective might shift towards how new tech could bring about the solutions we all seek:  
There somehow seems to be some fatigue around exploring and leveraging emerging technology among professionals in the cybersecurity industry. After 2019, when the COVID pandemic hit, the level of effort required from IT security teams and cybersecurity professionals was so big that sometimes we tend to forget about having those forward-thinking conversations. I'm not necessarily speaking about cybersecurity tools, but rather about new technologies that can be better leveraged by cybersecurity professionals across industries to advance their mission (and make it easier). Blockchain, quantum computing, distributed cloud and other emerging technologies have a big, untapped potential. 
We couldn't agree more! What's even more reassuring is that Tiberiu's solution to make it happen is precisely the collaboration and exchange of ideas between like-minded professionals – something very similar to what we've been trying to inspire through DefCamp since its inception:
I also feel that cybersecurity often needs to rethink and improve its partnership with IT and reinvent communication channels. We've been talking about asset inventory clean-up for over 20 years now, but it's still an ever-emerging subject among most organizations, be it SMEs or large corporations. Having better partnership with IT, contributing to their efforts proactively, making sure we know all the assets we need to protect, defining the boundaries of IT enterprise, are not one-offs. This should be routine.
It's settled: communication is fundamental. What else do you need?
There is no time to get bored when working in infosec. Vulnerabilities, vulnerabilities everywhere! 
You know your infrastructure will get hit, but you don't know when – and it definitely won't be something you'd expect. Good thing is, there are plenty of opportunities to keep your skills sharp. But there are some on whom you should focus more than others:
Besides the usual skills that you have for the different functions within an organization, critical thinking and problem solving are paramount. Might sound very dull, but it's important. A devsecops can learn new programming languages, a pentester can find or build new exploits, an analyst can define new SOPs, but without context and situational awareness they won't maximize the output of the knowledge and experience they have. 

Knowledge without practice doesn't take you very far. Instead of learning 5 things at once or consecutively, try to expose yourself and test things out. Theory is made to be universal in a way, so if you don't go ahead to apply it, you won't know how to morph the theory towards a productive outcome. You will get tired of new models and theories and stop learning. Always practice what you learn!
We'll let this uplifting thought from Tiberiu sink in, as we thank him for sharing his fresh perspective on the state of cybersecurity and snippets from his experience at Booking Holdings.
By the way: have you met the Booking Holdings team at DefCamp 2022?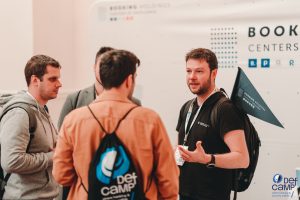 They had a neat expo stand and introduced us to a great speaker – Amirhossein Aliakbarian, Application Security Engineer at Booking.com, part of the Booking Holdings family of brands. Amir works closely with the Center of Excellence here in Romania. He talked about some thought-provoking challenges he faced in his current role and shared his findings about security controls. If you missed the talk, no need to worry, we'll come back with the recordings as soon as possible.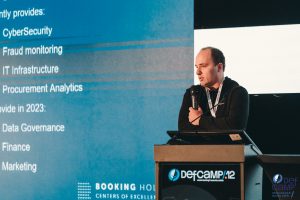 Stay tuned, because DefCamp is never really over.