Did you know that Hacking Village…
Is the right place to be if your plan is to play with the latest technologies and get involved in various hacking activities. Test your knowledge and skills (in fields like pentest, forensics, Social Engineering, WebSec, Reverse Engineering and other more) in order to solve challenges & win prizes and fame.
Ariadne's Thread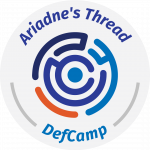 As THE Leader in the Gartner Magic Quadrant for Managed Security Services Providers, SecureWorks strives to ensure the security for almost 4500 clients.
The experts that work within our organization use skill, ingenuity and technology to combat cyber crime of all sorts, mitigate the effects threat actors want to cause to our clients and help create a safer environment in which people can perform their activities with as little disruption as possible. So can you.
We have designed this challenge for everybody who thinks they have what it takes to act as the first line of defense against the worst cyber threats of today, from the horde of lowly skiddies using LOIC to gain "street-cred" (and making a fool of themselves in the process) to the most complex APTs of today.
You may think that you don't have what it takes to work in cyber-security, you may not have seen the job ads or all the articles in all the media, but ultimately, all that it takes is a sharp mind and… a good search engine. So DO try this. The worst that can happen is to fail. The best… who knows.
Last, but not least, we would like to thank to everybody who is going to attempt this challenge, irrespective of how far they will get into completing it. Don't be put off and always remember:
"He who sits in a well to look at the sky can see but little. Plus your rear is wet."
Hacking Village is proudly supported by Beyond Security. DefCamp it's the most important conference on Hacking & Information Security in Central Eastern Europe, bringing hands-on talks about the latest research and practices from the INFOSEC field. Since 2011 is gathering under the same roof decision makers, security specialists, entrepreneurs and developers.
The main sponsor for DefCamp 2016 is Orange Romania who is also the Internet provider of the event. DefCamp is also supported by Bitdefender as Gold Sponsor, SecureWorks, Ixia, Enevo Group, Bit Sentinel as Silver Sponsors.