Did you know that Hacking Village…
Is the right place to be if your plan is to play with the latest technologies and get involved in various hacking activities. Test your knowledge and skills (in fields like pentest, forensics, Social Engineering, WebSec, Reverse Engineering and other more) in order to solve challenges & win prizes and fame.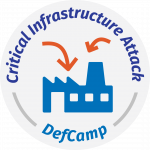 Critical Infrastructure Attack
A forward-thinking railway company controls, besides its railway infrastructure, a network of power generation facilities and a series of energy efficiency products rallying to meet the energy efficiency practices of today's world. The management decided to build solar plants and wind farms in order to reduce grid dependency and also to install VFD (variable frequency drives) designated for control of air compressors, oil compressors, and other motors, as well as drives used on the railway network. A SCADA (supervisory, control and data acquisition) application displays production and operation data of the solar and wind plants, together with operation data of the drives, motors, and switchyards along the railway network. The application is visualised and controlled from an O&M Master Room.
In short, there are three critical processes:
– railway switch yard automation;
– renewable generation solar and wind power plant;
– energy efficiency system using Variable Frequency Drive to control air pressure pumps.
Hacking Village is proudly supported by Beyond Security. DefCamp it's the most important conference on Hacking & Information Security in Central Eastern Europe, bringing hands-on talks about the latest research and practices from the INFOSEC field. Since 2011 is gathering under the same roof decision makers, security specialists, entrepreneurs and developers.
The main sponsor for DefCamp 2016 is Orange Romania who is also the Internet provider of the event. DefCamp is also supported by Bitdefender as Gold Sponsor, SecureWorks, Ixia, Enevo Group, Bit Sentinel as Silver Sponsors.