If you get a thrill solving cybersecurity puzzles and enjoy collecting awesome experiences (and prizes!), CTFs are one of the most fun and engaging things you can do.
From reverse engineering to cryptography, from web vulnerabilities to binary exercises, networking, and forensics, you can work with diverse challenges suited for almost every level. There's diversity to tackle challenges outside your work role or school assignments. You can go beyond what you usually do to explore new security niches and connect with people just as curious as you are.
Because we are part of that curious group of people who just can't stand still, we've been organising one of the biggest and most rebellious security CTF competitions in Central Eastern Europe for a decade! We just love the energy contestants bring to D-CTF and, honestly, we all need more of that this year.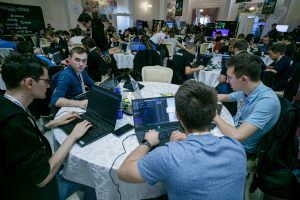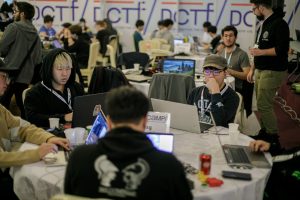 So, it is our pleasure to announce thaaaat (drumroll!) you can save the date for DCTF 2020!
Date ->>> 5th, 9:00am UTC – 7th, 9:00am UTC December 2020
The 2020 D-CTF will start on December 5 at 9AM UTC and finish on December 7, also at 9AM UTC.
What will it look like this year?
Well, you won't be falling asleep on bean bags or chairs with your head propped up on the table, so that's nice. But don't get too comfy on your couch or you'll miss out on the action!
Here's how this year's D-CTF is different:
1. A single phase
If you participated in the past, you saw that we used to host a qualification phase and then hold the final during the DefCamp conference (which is also adapting to this year's unusual dynamic). To get everyone together and make the most of it, we decided to merge them in a single-phase D-CTF.
2. The competition will take place on CyberEDU.ro
We're a silver linings type of team, so let's also look at the things that changed for the better this year. Earlier this year we partnered up CyberEDU.ro, a platform dedicated to infosec practice which gives us the ability to host D-CTF. We recommend you get familiar with it if you'd like to work on your infosec skills and know your way around when D-CTF starts.
3. Level of difficulty
The competition is for teams only and the challenges cover all levels of knowledge. From beginner to insane, just make your pick and hack 'em all!
4. Prizes
What is a good competition without the proper prize motivation, right?
Well, this year you'll have 19 chances to win money. Yes, you read it correctly! The top 10 teams will receive awards based on their performance and there will be some popularity prizes to encourage other results as well! Aaaand…… the grand total of prizes is 7.500+ euro in cash! (Yeah, that's a lot of exclamation points, but we're just too excited!)
Andrei Avădănei, DefCamp founder and D-CTF Lead Organizer, highlights how participating in this type of hacking competitions benefits everyone involved:
"D-CTF and CTFs in general are very useful for infosec specialists to use their offensive and defensive skills in scenarios very close to real life ones.

These kind of competitions provide the proper environment to test, explore, and learn how to exploit vulnerabilities in order to get the flags.

After each D-CTF edition we receive a lot of feedback from teams who say that the challenges were great. They even take some time to create and publish write-ups on their blogs after the competition for others who need more time to get to the bottom of everything.

And, what's even better, starting October 2020 everyone can register and attend CTFs online on the CyberEDU.ro platform."
You already know technology is evolving fast and things change even faster in infosec. We strongly believe – and know from real-life experience – that constant practice is the only way to keep up. To become a skilled professional, you must combine theoretical knowledge with as much practical experience as possible.
Joining D-CTF is an excellent opportunity to test your know-how and discover what you need to put more effort towards studying.
So, are you ready for the challenge?
Free to join, free to play!
Last but not least, we take this opportunity to thank our partners Orange, Bit Sentinel and Cegeka for supporting us to keep organizing DefCamp Capture the Flag for you every year. We promise an edition to remember with lots of exciting challenges ready to keep you engaged and motivated to reach all the flags.