DefCamp Capture the Flag competition has nominated is finalists after the online qualification stage that took place on September 22-23. There were about one thousand participants from 97 countries and the organizers estimate over 3,800 unique players.
The first phase consisted in 24 hours of intense competition during which teams were challenged to identify and exploit vulnerabilities in several IT systems and applications prepared by the organizers. The problems covered almost the entire spectrum of knowledge that is considered to be essential for a cyber security specialist, from exploiting web applications or computer services to cryptography, steganography, programming languages, networking, blockchain security, computer forensics, etc.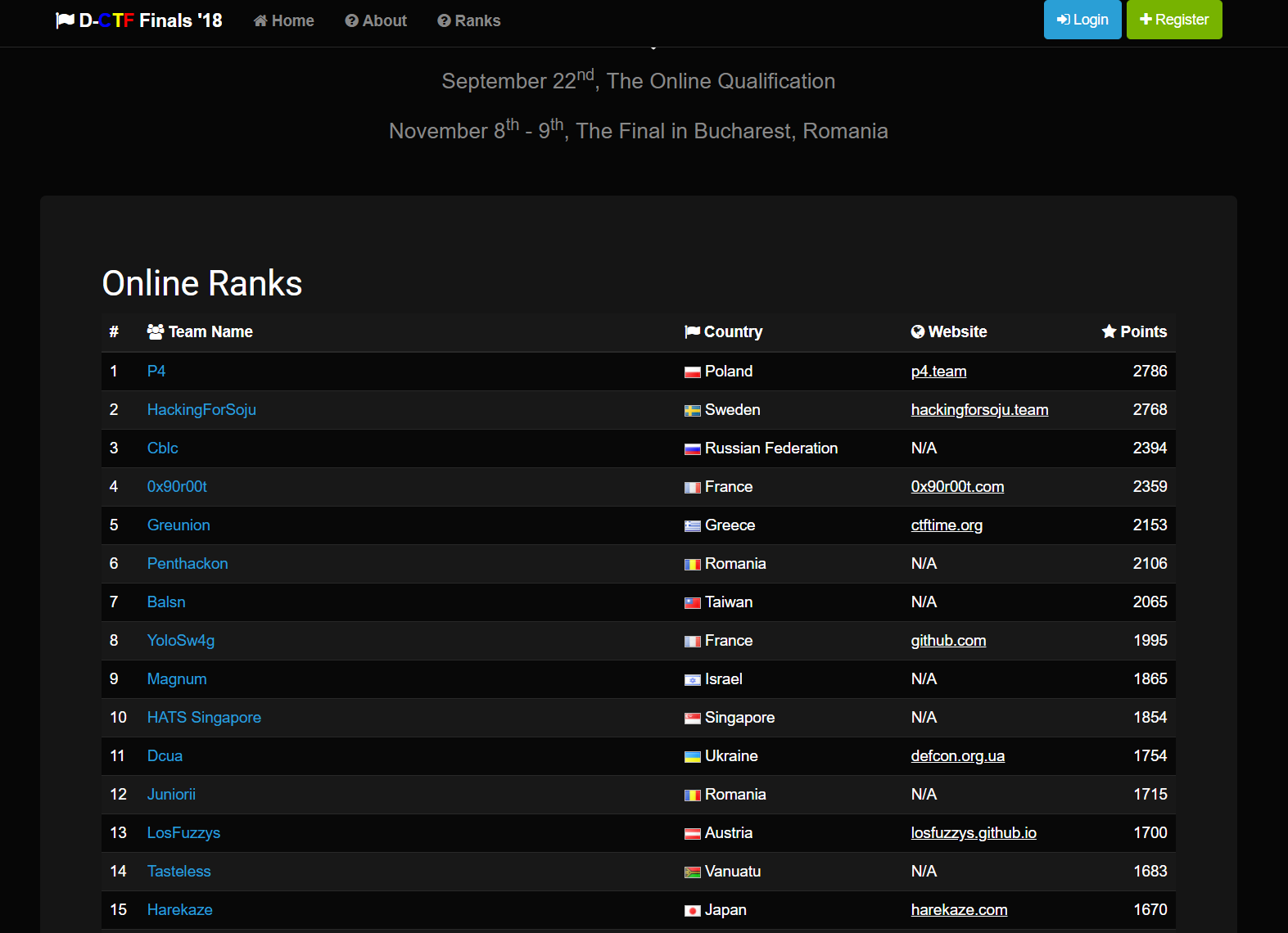 The first place was occupied by P4 team from Poland who dominated the competition followed by HackingForSoju from Sweden, who participated for the fourth time at the contest organized by DefCamp. Russia's Cblc team has the third place in the top. From Romania, two teams qualified in the top 15 finalists.
Most of the visits to the official website of the contest came from Romania, USA, South Korea, Russia and China, accumulating over 43% of total traffic. There were 135 participating teams from Romania, 117 from USA and 110 from China, and most points were gathered by Romania (16,148 points in total, 50 teams), Russia (7.149 points, 33 teams) and France (6,465 points, 21 teams). In total, 1,873 correct solvers and 3,885 unsuccessful attempts were sent.
The 3,800 unique users spent an average of 15 minutes on the website and returned about 3 times during the event. The 10 challenges from the Juniors category were resolved 1,073 times, and the first one was solved in just 11 minutes and 12 seconds after the start of the competition.
The Final Competition will take place in Bucharest, during DefCamp, on November 8th-9th. Best 15 teams will compete for winning the grand title and for prizes worth over 3,000 euros. Moreover, participating in the D-CTF Final allows all teams to meet recognized speakers who will be on stage and interact with over 1,500 attendees.
The final of the contest will be hosted in the Hacking Village area of ​​DefCamp, and the prizes will be awarded by Orange Romania and IP Exchange (IPSX).
DefCamp is powered by Orange Romania and is organized by the Association "Research Center for Information Security in Romania" – CCSIR. DefCamp 2018 is organized together with Ixia, Keysight Business, SecureWorks and Intralinks as Platinum Partners and is supported by IPSX, Bit Sentinel, TAD Group, Enevo, Crowdstrike, CryptoCoin.pro, Siemens, Alef, UiPath and Kaspersky Lab.