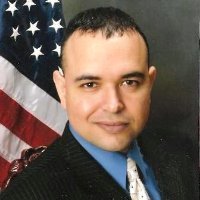 Paul de Souza
Director of Cyber Security Forum Initiative (CSFI)
Paul de Souza, CCSE, NSA-IAM, BCCPP, Sec+, Net+, CHCP, SANs E-Warfare, JNCIA-FWV. Mr de Souza is the Founder/President/Director of CSFI (Cyber Security Forum Initiative) and its divisions CSFI-CWD (Cyber Warfare Division) and CSFI-LPD (Law and Policy Division). He served as a Federal Director of Training and Education for Norman Data Defense Systems and he also teaches PSSL 6247 Cyber Defense Strategies at George Washington University. Mr de Souza has over 15 years of cyber security experience and has worked as a Chief Security Engineer for AT&T, where he designed and approved secure networks for MSS. Mr de Souza also worked for CSC and US Robotics as a Security Engineer. He has consulted for several governments, military organizations and private institutions on best network security practices and also presented in Estonia, the country of Georgia, Australia, Czech Republic, Belgium,Spain, Sweden,Israel, and all across the United States.
Presentation: Cyber Ranges
The Cyber Warrior of today must be trained in all facets of cyber, especially cyber operations. The use of virtualized cyber ranges, combined with professional training and certification, is a must for the deployment of full spectrum cyber operations in the defense of networks and missions.
This presentation will cover the main characteristics of:
(1) Cyber ranges. What is a cyber range? Why use a cyber range? Advantages of employing a cyber range. How to effectively use a cyber range to improve training techniques for cyber security professionals.
(2) Virtualization. What is virtualization technology? Advantages of using virtualization in a cyber range. How can you use virtualization technology to create "cyber muscle memory" and cause real effect when needed in your cyber operations and training.
Presentation @DefCamp 2014