Time passes fast, we are almost 6 months before the 6th edition of DefCamp and we are arranging everything in order to offer all our guests a memorable event. We learned a lot of things last year and this is why we would like to offer you just a few reasons why you should consider registering NOW for the autumn edition.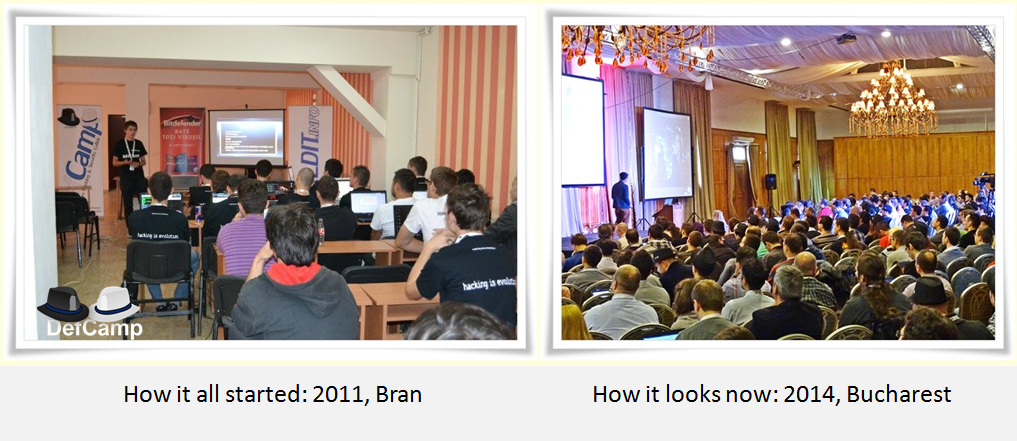 Reason 1 – Amazing speakers
If last year we had two amazing key note speakers and almost 30 experienced security researchers & engineers in the international cyber security scene, imagine what names will join us this year. We are in discussion with two impressive names from the IT security field and you definitely need to join the event in order to meet and speak with them. You should consider registering as VIP and have total access to the speakers lounge area.
Reason 2 – Very Early Discounts
Time is money 🙂 If you register until June 15th, you will benefit from a discount of the ticket price. Consider also bringing few other friends/colleagues and register as a group – discount will also will be applicable.
Reason 3 – Workshops & Briefings Stages.
We motivate and encourage all the security specialists and supporters/newbies to register for DefCamp no.6. For them we will have two stages – one main stage for professionals with super technical presentations where we share international concerns & approaches and one for "How to" workshops dedicated to the people that are passionate and they want to learn more about different topics. We want to develop the DefCamp community even more, this is why we are trying to adapt to answer to almost all the needs.
Reason 4 – Unlimited geographical boundaries
Every year we are bringing the most skilled people from all over the world to present the latest news from the IT security field. This year we are planning to expand even more the geographical limits from last year and in order to offer our participants even more quality presentations, we've established a conference committee who will help us to choose the best speakers. We already received a bunch of application at CFP and still receiving more every day.
Reason 5 – Community
It's never too early or too late to be a part of the security community from DefCamp. It's the best environment to learn about IT security and to expand your knowledge. In just two days you can met people from all continents, you can listen perspectives of people from different fields of activity. It's a great opportunity to validate and share your opinions with people that share your knowledge and your passion for security.
Don't forget, at DefCamp hacking and security collides! Looking forward to meeting you all and secure your seat now by registering.
PS: We have many other reasons besides this 5 mentioned above but let's keep it simple 🙂 Aditionally, don't forget to follow D-CTF competition – we have so many surprises prepared for the 2015 edition.