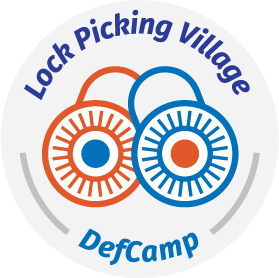 Lock Picking Village
Break a combination lock of beginner/average difficulty and get a lock picking set.
Be sure to pre-register for the Lock Picking Village to reserve your spot and make the most of it! Just use the Registration button to your right and fill in the details.
/ Learn how to lock pick 🙂
/ Combination is set to a completely random number (unknown to anybody).
/ First who successfully opens the lock with at least one judge being present gets the lock picking set.
Terms & conditions of this competition are available here.
/ 15 x Loetad Lock Picking Lock Pick Set Professional 19-Piece Picklock Set with 2 Transparent Training Locks for Locksmith's Shop Beginners and Professionals
Gabriel Cirlig – Lockpick Master
DefCamp Capture The Flag ( D-CTF) is the most shattering and rebellious security CTF competition in the ..
They help us make this conference possible.
At Orange Business Services, we help our customers transform their industries, reimagine their services, create a positive impact and unleash the power of their data into an amazing and trusted resource.
With the dual expertise as a global operator coupled with the agility of an end-to-end integrator, Orange Business Services is a global network-native, digital services company. From connectivity, smart mobility services and the cloud to artificial intelligence (AI), analytics and cybersecurity, Orange Business Services helps businesses at every stage of their data management. Orange Business Services is represented in Romania by the business division of Orange Romania and helps large companies, SMEs and public authorities to transform their organizations through the use of technology and digital information.
COMMUNITY & MEDIA PARTNERS