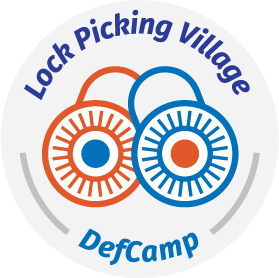 Lock Picking Village
Break a combination lock of beginner/average difficulty and get a lock picking set.
Be sure to pre-register for the Lock Picking Village to reserve your spot and make the most of it! Just use the Registration button to your right and fill in the details.
/ Learn how to lock pick 🙂
/ Combination is set to a completely random number (unknown to anybody).
/ First who successfully opens the lock with at least one judge being present gets the lock picking set.
Terms & conditions of this competition are available here.
/ 15 x Loetad Lock Picking Lock Pick Set Professional 19-Piece Picklock Set with 2 Transparent Training Locks for Locksmith's Shop Beginners and Professionals
Gabriel Cirlig – Lockpick Master
Dave, a game developer who felt especially lazy one day, left a backdoor on the main title server so he can do..
IOT Village is designed to have a practical approach towards device hacking allowing the participants to win ..
In a world where Black Mirror and 1948 are becoming reality, profiling a given person is only a matter of ..
They help us make this conference possible.
Orange "brings you closer to what matters to you".
This is our brand promise: to bring our clients closer to what's essential to them and to keep them always connected and in touch with the latest technologies, by offering them the best and safest communication experience.
Ixia provides testing, visibility, security solutions, network testing tools and virtual network security solutions to strengthen applications across physical and virtual networks.
Secureworks provides threat intelligence-driven security solutions for organizations to prevent, detect, rapidly respond and predict cyberattacks.
COMMUNITY & MEDIA PARTNERS