Can you believe it's almost November? 🙀
Just one month from now we'll be opening the doors to the biggest DefCamp yet!
The community response to this year's conference has been overwhelming which makes us even more excited (and nervous) to get to share it with you all.
DefCamp is not just about debating research and unpacking malware. It's also about walking the talk and trying out different methods to break through, so you can then go back to the system and secure it.
You'll have plenty of opportunities to do that in the DefCamp Hacking Village!
Here's a taste of what you can have fun with this year to either gain experience or prizes (or both)!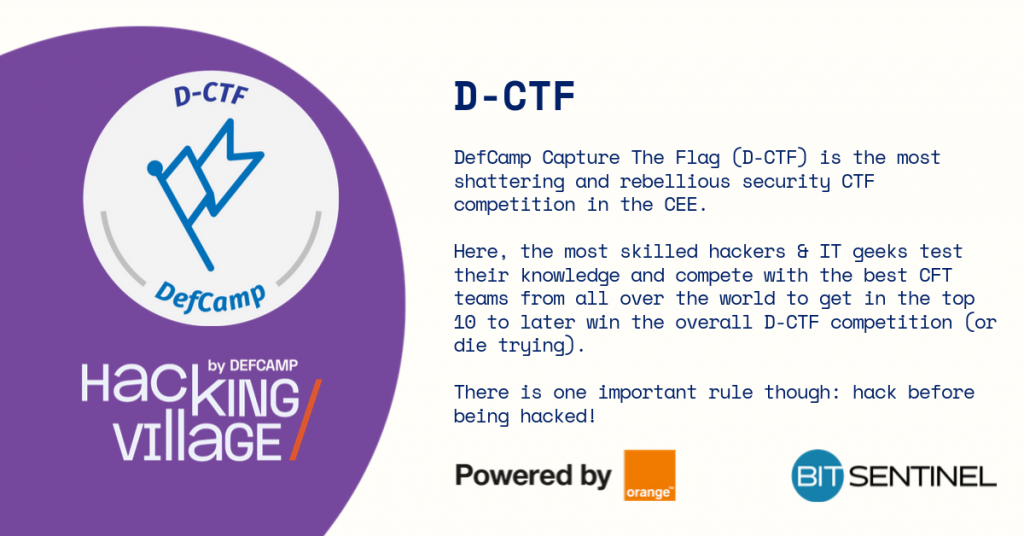 DefCamp CTF
On September 7, 500 teams from 73 countries tested their offensive and defensive skills to solve the D-CTF challenges!
🏆 We announced the teams coming to Bucharest to fight for supremacy in the DefCamp CTF sponsored by Orange Romania and Bit Sentinel!
The organizing team is hard at work to create even more challenging tasks for the grand finale!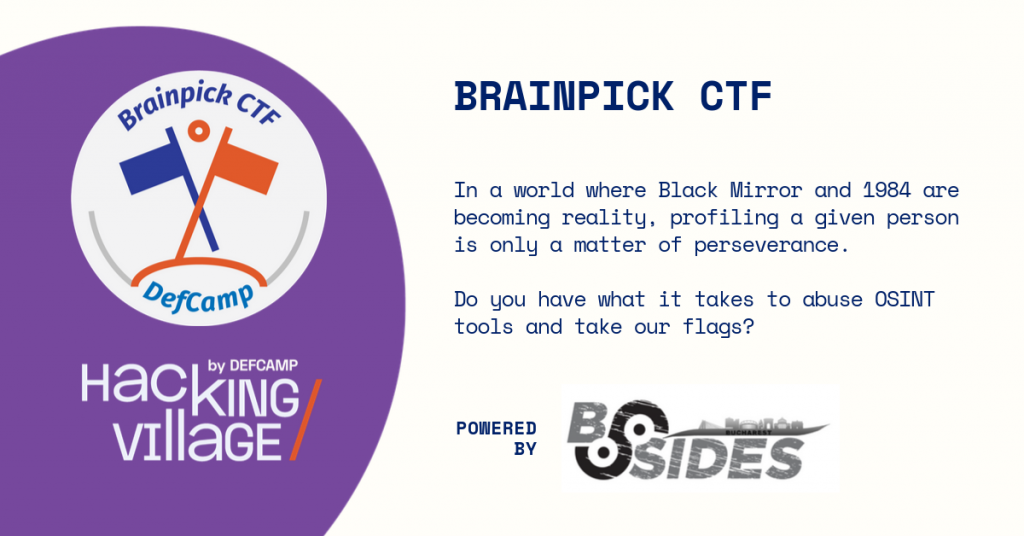 Brainpick CTF
What happens to our identities both online and offline is becoming crucial for every other aspect of our lives, from work to personal affairs.
As Black Mirror and 1984 are becoming reality, profiling someone only requires perseverance.
Do you have what it takes to abuse OSINT tools and win the Brainpick CTF?
The Brainpick CTF sponsored by BSides Bucharest is the perfect opportunity to test your… online research skills!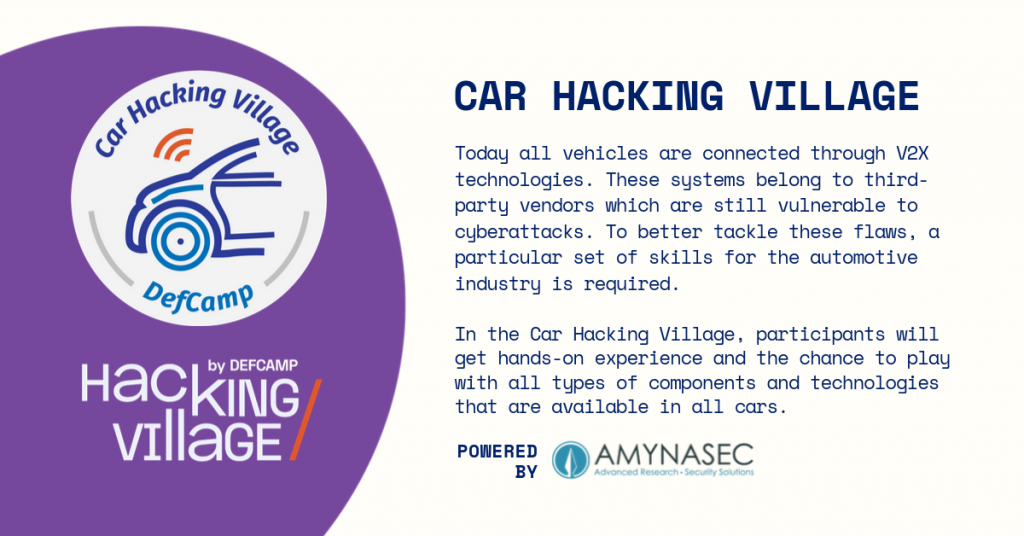 Car Hacking Village
🚘 Does car hacking spark your curiosity?
Get hands-on experience and the chance to play with all types of components and tech available in all cars at the Car Hacking Village at DefCamp!
This competition sponsored by AmynaSec is bound to be both spectacular and challenging!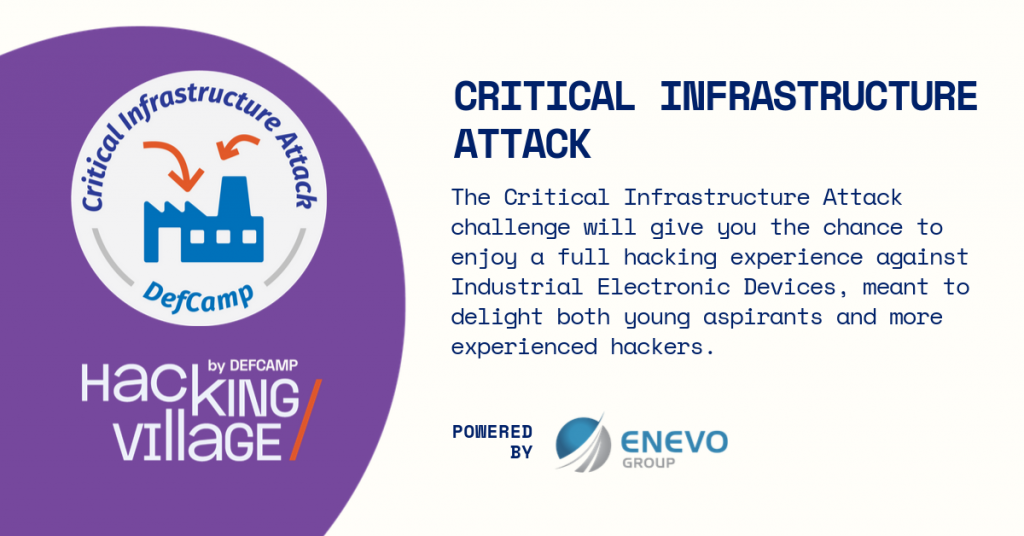 Critical Infrastructure Attack
Our lives depend on securing critical infrastructure!
Speakers from all over the world have talked about this many times at the conference and interest in the topic is only increasing.
See how it works in a simulated environment!
Get a full hacking experience against Industrial Electronic Devices, meant to delight both young aspirants and experienced hackers.
This awesome competition sponsored by ENEVO Group always attracts people to discover the complexities of ICS components!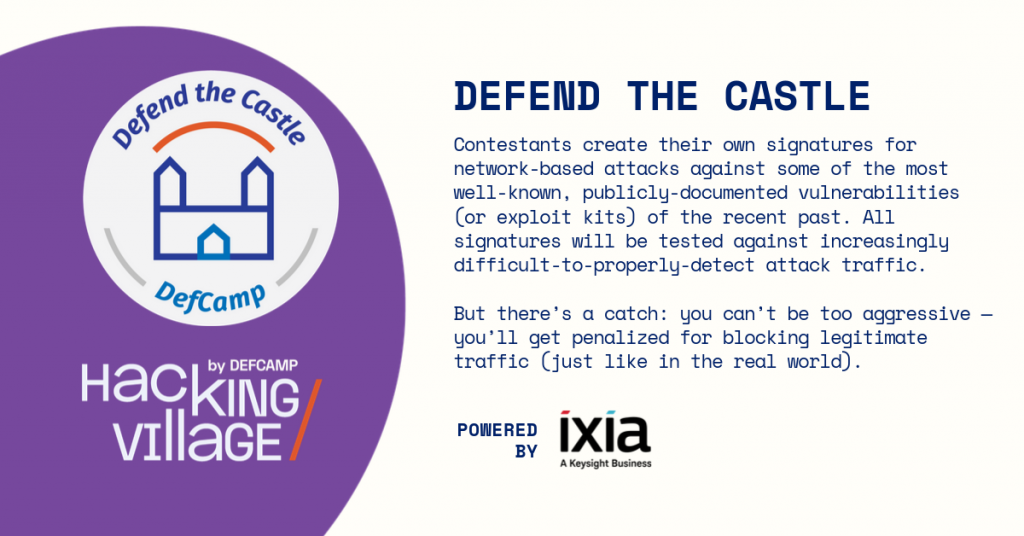 Defend the Castle
Welcome to Defend the Castle!
Create your own signatures for network-based attacks against some of the most well-known vulnerabilities and exploit kits of the recent past.
Join us at DefCamp and discover this awesome competition sponsored by Ixia Romania!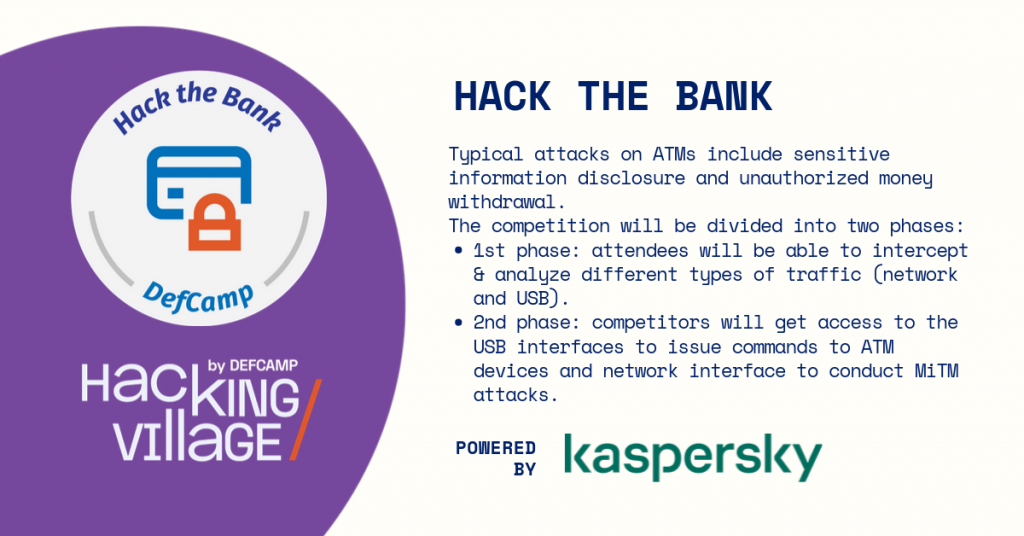 Hack the Bank
A DefCamp Hacking Village favorite is here!
Intercept and analyze network & USB traffic. Issue commands to ATM devices and network interfaces to break in. Win awesome prizes! 💪
Get the info on this competition sponsored by Kaspersky and don't miss out on some good fun and a new bit of experience to add to your infosec background!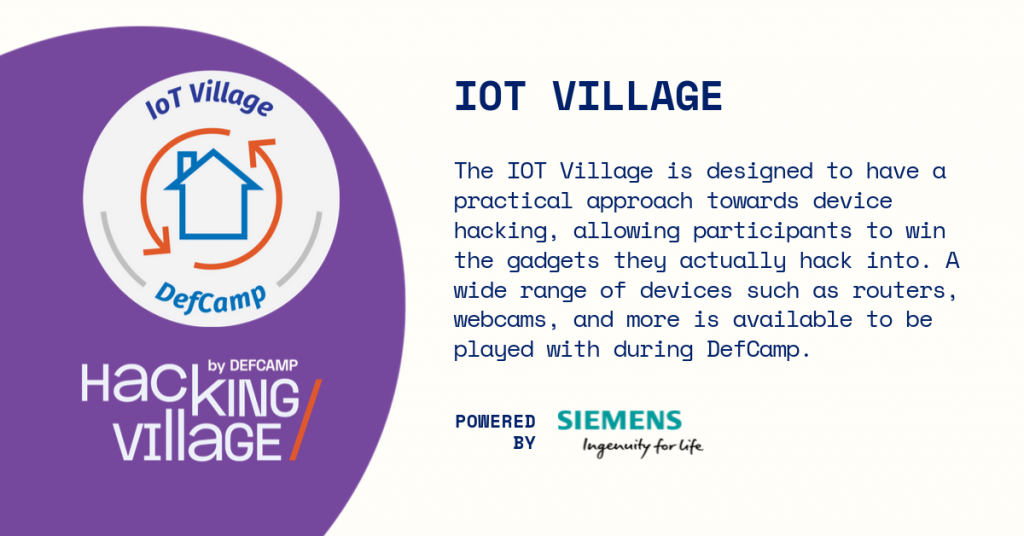 IoT village
The IoT Village at DefCamp is designed to get your hands dirty and do the work!
Identify and responsibly report vulnerabilities in IoT devices and win cash prizes!
The catch? You won't be the only one trying!
Check out the details for this competition sponsored by Siemens!
Lock Picking Village
There's something about lock picking that makes it unable to stay away!
The Lock Picking Village at #DefCamp is usually a favorite and lock picking master Gabriel Cirlig always keeps things interesting!
Check out the details and join us on November 7-8!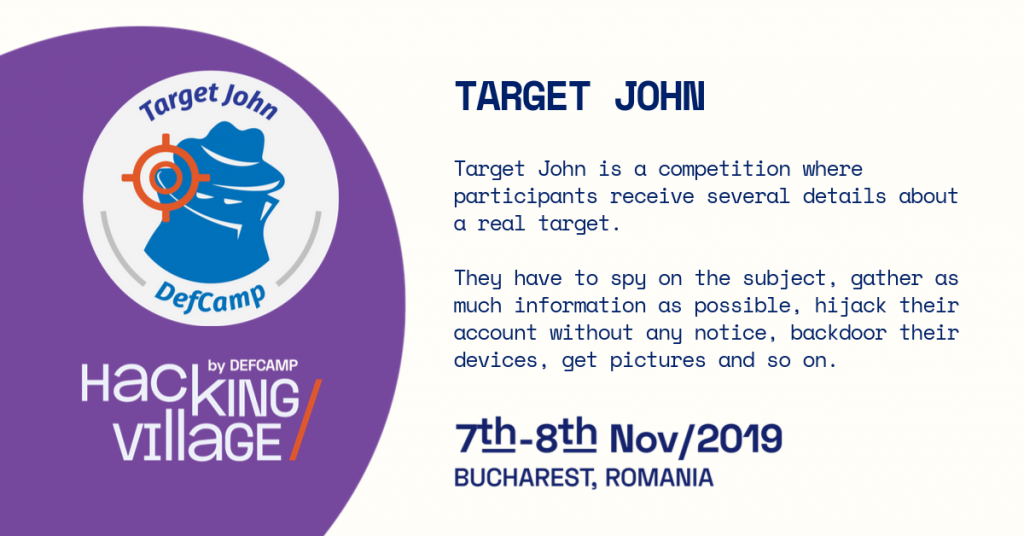 Target John
Think you're good at online "research"?
The Target John challenge in the #DefCamp Hacking Village is for you!
Get info on a real target, backdoor their devices, and test your skills – technical or otherwise.
Join this fun challenge at the conference!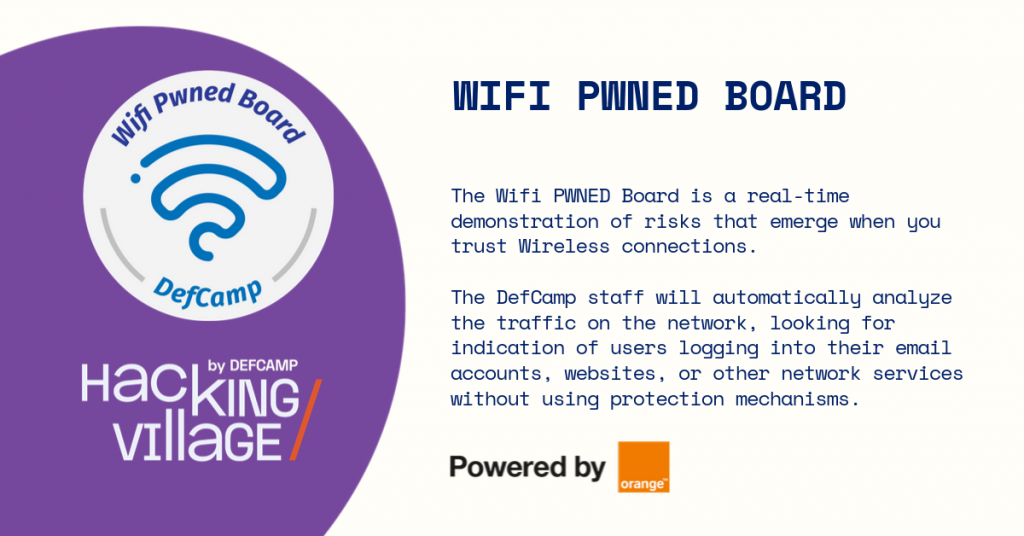 WiFi PWNED Board
The Hacking Village at DefCamp will be packed with challenges!
It's one in particular we're always keen to run: the Wifi PWNED Board! 😎
This real-time demonstration of risks that emerge when trusting wireless connections is sponsored by  Orange Romania and gives us good reason to leave our phones and other devices somewhere (in a) safe.
EA – Lazy Dave
Dave, Dave, Lazy Dave…
Don't you know leaving a backdoor on the main title server to do some remote work is a big misstep?
I guess one of you DefCamp participants must find it, so we can get it patched!
Now, it's true Dave stashed some game keys for EA titles there… And you know what they say, right? Finders, keepers!
This Electronic Arts supported challenge is bound to give gamers a reason to dig deep!
See you soon!
Ready to take on the challenge and meet us at DefCamp?
This year, we're taking DefCamp to the next level with the help of our main, long-time partner, Orange. With support from IXIA – a Keysight Business, Secureworks, UiPath, Bit Sentinel, Thales, and other selected tech companies that value the power of community, we're building valuable, hands-on learning experiences for 2000+ attendees from all over the world!
Join us to educate, secure, and change the world!