DefCamp 2022 was the cybersecurity conference edition we all needed
Yes, competing in online competitions and watching world renowned experts speak about their latest findings from across the screen can be convenient and bring us closer together in uncertain times.
But nothing compares to this. And this. Also this (and more).
We would have expected, after two years of exclusive online activity – doubled down by a recently unstable geopolitical context – for the comeback to be difficult. But, nothing felt more natural than to reunite under the same roof. While technology continues to evolve, threats are keeping up the pace so it's paramount that cyber professionals do the same.
Once again, you did not let us down. 
1600+ of YOU made DefCamp 2022 happen! 
Whether a first timer or a veteran at DefCamp, your desire to learn, collaborate and exchange ideas with like minded peers fuels the growth of the infosec community.
You showed up from over 30 countries around the world – the US, Republic of Korea, Poland, France, the Netherlands, Germany (the list goes on) – and from all over Romania to engage in conversations with people you already knew or just met.
You bought a ticket to listen to the best, to ask thought-provoking questions, to satisfy your curiosity, to share with others what you know and see what they've got to offer in turn.
Maybe you were adventurous enough to test your skills and acquire new ones in the thrilling challenges we worked on for days on end.
Or perhaps you were up on stage, showing others where the infosec industry is heading, or spreading cybersecurity awareness, offering feasible solutions to pressing issues.
You might have been part of the behind the scenes team(s), who helped us put every single DefCamp detail together. 
Whatever the case may be, all of YOU did all of THIS:
For that, we wholeheartedly thank you!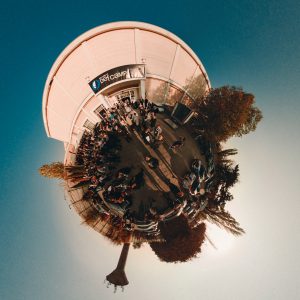 What YOU think was great @ DefCamp 2022
We could keep elaborating about what we think we did right at DefCamp 2022. However, we've read so many social posts from the infosec community in the past few weeks about what happened on the 10th & 11th of November and they sound so much better than what we had in mind.
We are thrilled that you enjoyed it enough to share:
The SWAG: 
Deux jours intéressants en perspective avec pour commencer "secrets of social media psyops"❤️@DefCampRO pic.twitter.com/hmHGoaEVQU

— 🙃ǝᴉןoꞀ (@_lolie__) November 10, 2022
We're doing our best to come up with new, creative ideas every chance we get. Looking forward to seeing what's going to catch your eye next year!
The speakers:
Had a bunch of fun at @DefCampRO !
Saw @jaysonstreet live on stage with his fun & scary stories at the same time ("Remmeber the kittens" – Jayson). pic.twitter.com/ukr4U5BxQR

— 0xSeth (@0xSeth) November 12, 2022
1000% on the same page with you here! The 40+, both new & returning speakers who accepted our invitation or applied to our Call for Papers sure left their mark on DefCamp 2022. They taught or reminded us that:
cybersecurity is a shared responsibility,

offensive knowledge can be used for both good and bad,

you can never provide complete safety to a software ecosystem,

there is a huge year on year increase in cyber criminal activity,

you can't have security without collaboration,

training the human factor is still trending.
As cybersecurity is a multi faceted field, the professionals that covered the two stages at DefCamp 2022 have been extremely generous in offering us the perfect mix of subjects for any cyber enthusiast to reflect upon. For example:
From in-depth technical details and analyses to business tips and sharing personal experiences; from talking data to talking people. The DefCamp speakers dissected every topic.
The hacking (and the prizes!):
This year we reintroduced the long-established model of online & hands-on activities in the Hacking Village. 
We're proud to have seen you "getting your hands dirty" in hardware hacking, stalking people and, of course, lock picking. The CyberEDU platform hosted some of the other bug bounties, forensics & OSINT challenges and CTFs for those who think they have what it takes to act as the first line of defense against the worst cyber threats of today. You were challenged to hack the unhackable and the hackers themselves.
D-CTF? That's a different – and longer story, about which we told the full version here.
And you did an amazing job in all 10 contests: congrats!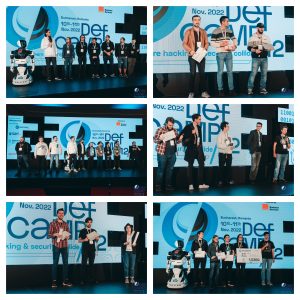 Actually, all of DefCamp 2022:
(we cannot stress this enough: we thank you too!)
(you have to admit, the roses do give a different touch to the whole set up…)
(all eyes and ears, that's what we're talking about!)
(food for thought, indeed)
This is heartwarming, to say the least!
What also stood out @ DefCamp 2022:
The memes:
Hi @de3ev, here's the meme I promised, happy to share it. And if you want the whole presentation deck, just DM me the contact info where I can send it.
Keep on keeping on! pic.twitter.com/yzjRVut7bj

— Sebastian (@sebastian_paul) November 14, 2022
This is another proof of the creativity that lies within all of you cyber aficionados!
The selfies:
Team @Secureworks ready to defend every corner of cyberspace at @DefCampRO pic.twitter.com/tINVOGQcvN

— Dr. Nestori Syynimaa (@DrAzureAD) November 10, 2022
Love to see you all!
The support between speakers:
Like this:
Here's @BiaSciLab starting off @DefCampRO strong!! 😊 pic.twitter.com/3AkCFaf3DK

— Jayson E. Street 💙 🤗💛 Hacker – Helper – Human (@jaysonstreet) November 10, 2022
Or like this:
Nice summary of 2022 by Ioan Constantin at @DefCampRO pic.twitter.com/mcwbLGn3k9

— Sebastian (@sebastian_paul) November 10, 2022
Helping eachother grow is fundamental in nurturing a healthy infosec community. That's why we're delighted to shine the spotlight on such examples  and encourage more of it.  
The support from our
partners:
Who shared valuable lessons and insights in several

interviews;

Who brought an immense contribution to the

Hacking Village

, through compelling and intricate CTFs and prizes to match them;

Who understood your need to look for

new opportunities and challenges

;

Who want to help their peers make a change with some powerful security

tools and services

;

Who were there for you, to guide and support you in your endeavors!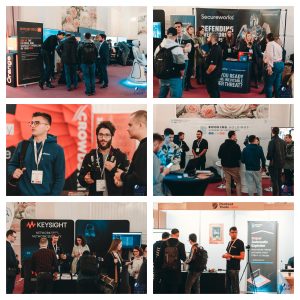 The overall enthusiasm and the genuine feedback you sent us:
Bulgarian presence on the @DefCampRO conference. #defcamp pic.twitter.com/RJBN4GhaMn

— Miglen (@miglen) November 10, 2022
The conference always keeps you busy (which is really good). Either with security talks and/or hacking competitions, so I have enjoyed it a lot.
Everything was beyond expectations. Keep on doing the great work :). The community needs more events like this.
I have lots of friends who don't care about IT/SEC and I don't like to sound like a TV commercial. I will make recommendations when appropriate. You guys did a fantastic job with some super high quality speakers and for that I have recommended you to multiple people.
Words like these keep us aiming for the next level, to deliver an even "more unforgettable" experience at the next edition!
Once again, THANK YOU for making DefCamp #12 happen!
Your lucky #13 is on the way…
These people right here: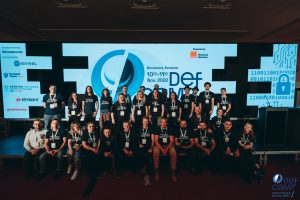 They will start working on DefCamp 2023 soon.
We hope to have you by our side again!